Tops-Alexander and Bengtsson dual once again in the Championship race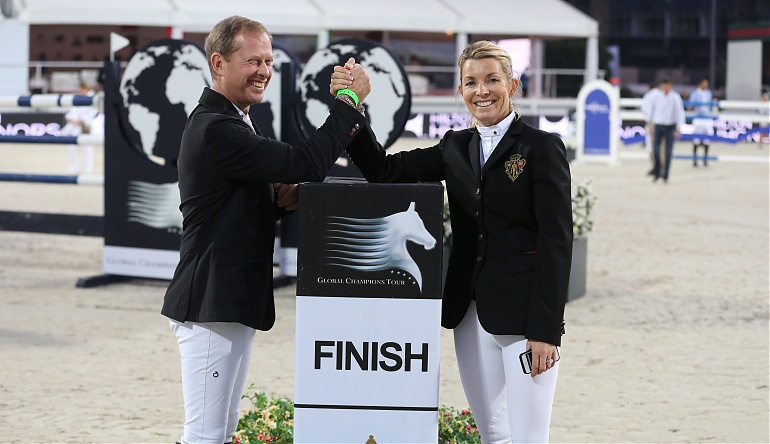 Release date: 01/01/1970
(Photo: Stefano Grasso/LGCT)
The Longines Global Champions Tour Championship race could not be closer this year as we head into the dramatic final five stages of the 14-leg season. The 2012 and 2011 Champion Edwina Tops-Alexander (AUS) has been a force to be reckoned with at the top of the table with 201 points, having maintained a healthy Championship lead since round three in Hamburg back in May. Tops-Alexander had an excellent start to the season, placing in the top five of three of the first five Grand Prix, including capturing a Silver medal in Shanghai.
But the two-time Champ is under attack from none other than her 2012 rival and runner-up Rolf-Göran Bengtsson (SWE) who has 194 points. The Swede has been on fantastic form since the very start of the season where he took a Silver medal in Antwerp, one of his first major results since returning to the saddle after a winter break due to injury. Bengtsson's incredible 15-year-old stallion Casall ASK has jumped like a star through the season helping the pair to collect three podium finishes so far, including a triumphant win in Chantilly last weekend.
Round Ten is next up and it's hosted by the spiritual home of the Tour - Valkenswaard - in a few days time. Both Bengtsson and Tops-Alexander are confirmed to compete and with just seven points separating them on the Championship table, every placing counts. Luckily for Bengtsson, he has six Grand Prix results counting so far of the possible seven, whereas Tops-Alexander has reached her maximum. From this point, the Australian No1 will have to remove a result and the associated points in order for another, better result to count. The Dutch leg of the Tour is where Bengtsson could really make this year's Championship his own after coming so close to victory two years ago.
However, it is by no means a two horse race. Rising Qatari star Bassem Hassan Mohammed lies in 3rd with 181 points, behind the duelling pair in 1st and 2nd. An emerging star of the show jumping world, Mohammed has become one of the most recognisable riders on the Tour due to his 'both hands in the air' celebrations when he jumps an important clear round. Though the top three riders have broken away from the trailing pack, Mohammed has also reached his seven round quota and would have to drop an earlier result if he does well on Saturday. It is a similar situation for Emanuele Gaudiano (ITA) in 4th with 157 points and seven results counting.
There are also some big names lurking in the lower half of the LGCT Top Ten who are yet to collect their 7th result of the season - Henrik von Eckermann (SWE) in 7th with 145 points still has two more Grand Prix results to collect and could well charge up the ranking pending a good result this weekend. Ludger Beerbaum in 8th with 124 points also has a Grand Prix result in hand. Valkenswaard is Beerbaum's favourite show and the German legend has collected two 4th places so far this season, so he will no doubt be hunting a podium position in the Valkenswaard Grand Prix.
Watch the Longines Global Champions Tour of Valkenswaard Grand Prix on Saturday 2nd August live on GCT TV, Equidia Life, Horse&Country TV, beIN Sports 6 and ClassHorseTV from 2.15pm CEST, and see the highlights on Eurosport from 6pm CEST.