Season 2018
Ramatuelle/Saint Tropez
31 May - 2 June 2018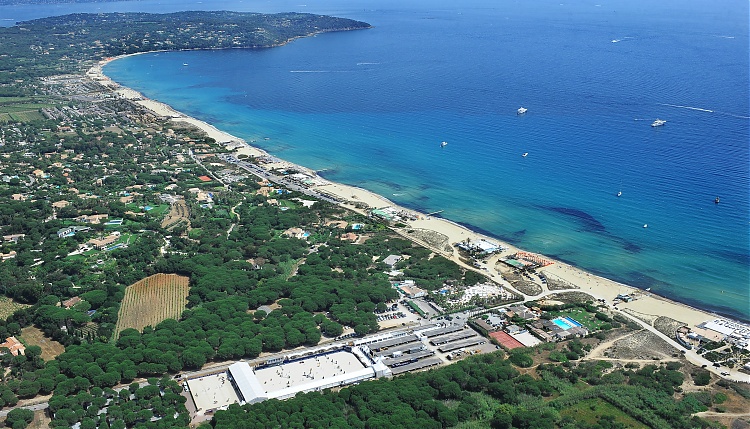 Ramatuelle/Saint Tropez
31 May - 2 June 2018
Longines Global Champions Tour of Saint Tropez Show Schedule:
(Please note, all times local and may be subject to change or alteration)
Please click here for the detailed CSI 5* - CSI 2* FEI Schedule
For information about the GCL team competition, please click here.
Where can I watch it?
All the CSI 5* rounds will be streamed live via our website featuring exclusive studio interviews, expert commentary and of course all the action from the arena. Check out GCT TV here to be directed to the live stream, or click here to see the full broadcast schedule. Selected CSI 5* classes will also be streamed via our official Facebook Live channels.
What does this all mean?
For a brief explainer, please scroll down to the bottom of the page for a summary.*
Thursday 31st May
08:00
CSI 2* Prix Ville de Ramatuelle 1.10/1.15m (€1.500)
09:40
CSI 2* Prix Hotel de Paris Saint Tropez 1.25/1.30m (€2.500)
11:30
CSI 2* Prix Ferretti Yacht 1.40m (€3.500)
13:45
CSI 5* Prix Mclaren 1.45m (€25.000)
17:15
CSI 5* 1st GCL of Saint Tropez 1.50/1.55m (€62.000 to individual class winners)
Friday 1st June
08:00
CSI 2* Prix Nikki Beach 1.40/1.45m (€4.500)
09:50
CSI 2* Prix Château d'Esclans 1.15m (€3.000)
11:50
CSI 2* Prix Hotel Byblos 1.25/1.30m (€5.000)
14:30
CSI 5* Prix PremiuMares 1.45m (€25.000)
17:00
CSI 5* Prix Julius Baer 1.45/1.50m (€61.000)
Saturday 2nd June
08:00
CSI 2* Prix Cavalleria Toscana 1.25/1.30m (€4.000)
09:40
CSI 2* Prix Henriot 1.15m (€2.000)
11:35
CSI 2* Final - Prix Dolce & Gabbana 1.45m (€25.000)
14:25
CSI 5* 2nd GCL of Saint Tropez 1.55m (€93.000 to individual class winners)
18:10
CSI 5* Longines Global Champions Tour Grand Prix of Saint Tropez - 1.60m (€300.000)
What does this all mean?
Each Longines Global Champions Tour and GCL event can be separated into two categories - CSI 5* and CSI 2* classes. The CSI 5* is the top level competition, where the top-ranked riders in the world will compete for the highest prize money, over the biggest fences - up to 1.60m which is the highest in the sport. The CSI 2* classes are slightly smaller in height, and offer opportunities for many local athletes as well as international rising stars.
The GCL is the team competition, where riders unite like never before to compete for points in the overall Championship. All roads lead to the innovative new GC Prague Playoffs, which will see the top 16 teams compete in the ultimate showdown in December, so every point counts over the course of the Championship calendar.
The Longines Global Champions Tour is the individual Championship, with the world's best battling for the LGCT Grand Prix win. This offers the biggest prize money of the weekend, valuable Championship ranking points, and a win would mean they qualify for a place in the GC Prague Playoffs, where the Longines Global Champions Super Grand Prix will take place. This will see the winners of each Grand Prix throughout the season return for a final locking of horns, to see who will come out on top after another electric season on Tour.